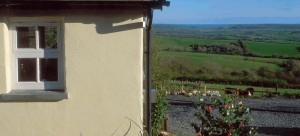 Perfectly situated in West Wales, Kind Cottages offer superb accommodation for those who want a place to relax and unwind.
The Cow Shed offers accommodation for up to 9 guests while The Servants' Quarters can cater for 4 guests. Alternatively, book together for the perfect group getaway.
Situated on Via Julia, the Roman Way that runs from Bath across West Wales to St Davids in Pembrokeshire, Kind Cottages enjoy breath taking views over the Vale of Taf and Carmarthen Bay and beyond. To the north, the Preseli Hills form the backdrop to a patchwork of ancient oak woods and the small fields of family farms. The village of Meidrim is nearby with a pub, church, village green, childrens' play area and stream to paddle in. The section of the river over which the stone bridge passes is called Afon Hafren, which translates as the River Severn, who said the Romans had no sense of humour!
On the five acre property there is a 16th Century, two bedroom cottage called the Cegin Fach which sleeps four, and two one bedroom studio apartments that each sleep two people. It is our hope that this website will show you a little of the facilities here and a feeling of the open countryside and comfortable accommodation available, but please be in touch if you would like to know more.